By following invoicing process workflow you can make invoices for payment. It is important to set up an efficient invoice processing workflow. At a basic level, this workflow includes:
Invoicing Receipts: The accounting department confirms that the product or service has been procured. The invoice amount is then compared to the original purchase order (PO) amount. Any discrepancies between the invoice amount and the purchase order amount must be resolved with the supplier before the invoice is submitted for approval.
Invoicing Approval: If the information is correct, the invoice will be forwarded for approval by company policy.
Payment of Invoice: Upon approval, an invoice will be issued for payment by the terms negotiated with the supplier. In some cases, businesses may choose to pay their bills early to take advantage of discounts.
An established invoice processing workflow makes your accounts payable more efficient by tracking receivables from suppliers, ensuring payments are properly authorized, and processing payments. Accurate information about liabilities is essential to produce an accurate balance sheet.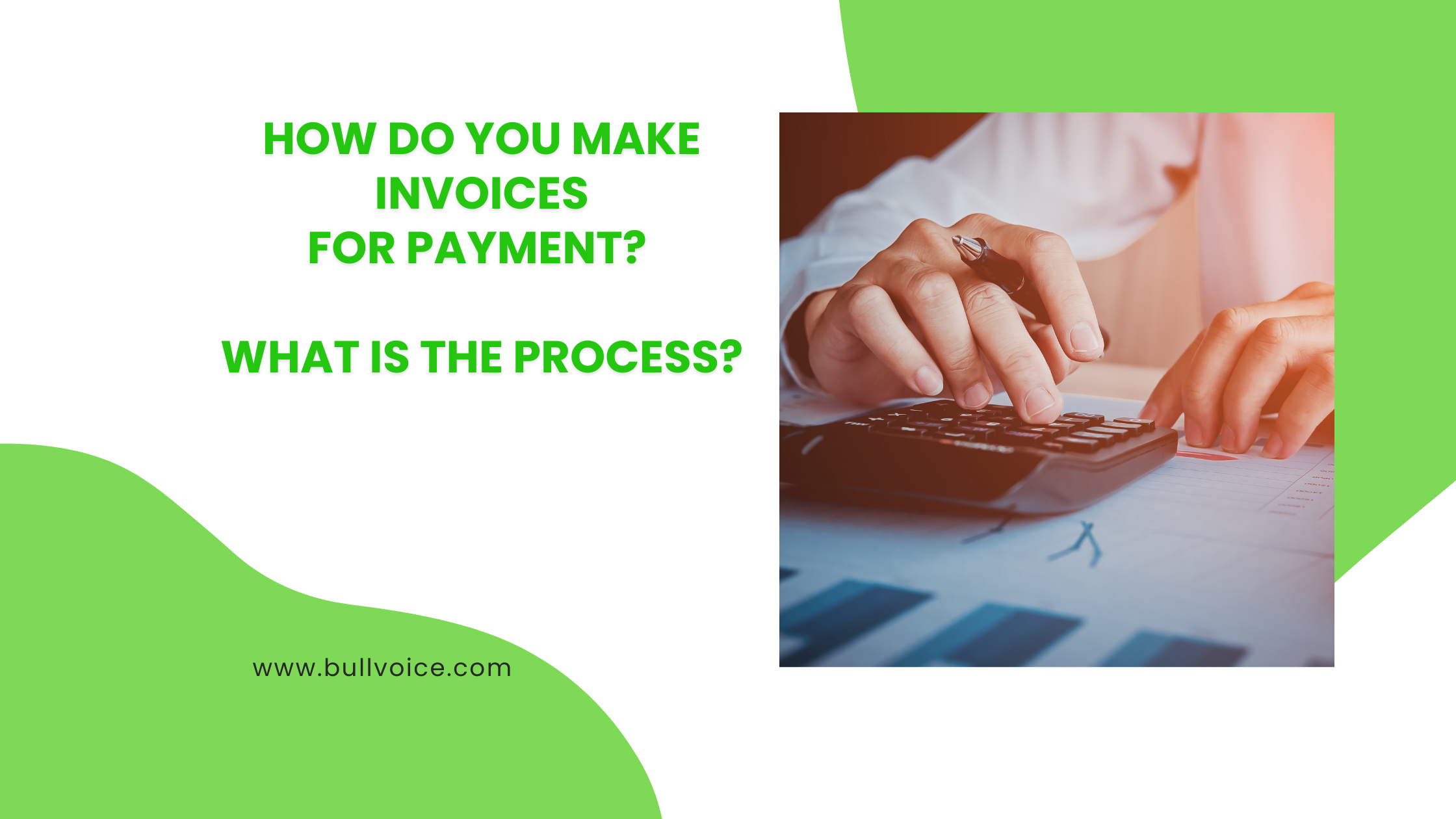 You can make invoices for payment, by following a simple process:
Believe it or not, the way your invoice looks can have a big impact on how quickly you get paid. An invoice that's easy to read and understand is more likely to be paid promptly than one that's confusing or difficult to decipher.
If you're running a business, you'll need to know how to create an invoice for payment. The document is essentially a bill for goods or services you've provided, and it's an important part of getting paid by your customers.
Creating an invoice is relatively simple, but there are a few key things to remember. First, be sure to include all of the relevant information, such as your contact information, the customer's contact information, a description of the goods or services provided, and the amount due. Second, be sure to date the invoice and include some kind of payment due date. This will help ensure that your customer pays promptly.
Once you've created the invoice, you'll need to send it to your customer. You can do this electronically or via regular mail. If you're sending it electronically, you'll need to make sure that the file format is compatible with your customer's system. Finally, be sure to keep a copy of the invoice for your own records.
Creating an invoice for payment may seem simple, but it's an important part of running a successful business. Here are a few tips to make sure your invoices are clear and easy to understand:
1. Use simple language and avoid jargon.
2. Be clear about what the invoice is for.
3. Include all the relevant information, such as your contact information, the date the invoice is due, and the amount owed.
4. Use a consistent format for all your invoices.
5. Proofread your invoices carefully before sending them out.
By following these simple tips, you can help ensure that your invoices are paid promptly and avoid any unnecessary delays in getting paid.
Invoices may be entered prior to the check presentation date. Based on the payment terms entered, select the invoices to be included in the payment process, which RF Central carries out overnight. The payment process generates a check. When you create an invoice for your business, you are essentially creating a document that outlines what your customer owes you for goods or services that you have provided. The invoice should include all relevant information about the transaction, including a description of the goods or services provided, the date of the transaction, the amount owed, and any applicable taxes or fees. Once you have created your invoice, you will need to send it to your customer so that they can make payment.
Create your account here if you want to create your first invoicing.