Whenever you make any invoices, two questions arise first; How to do Invoice Payment? How does it work? We will cover these topics in our blog post today. So, paying your invoices on time is crucial to maintaining a good relationship with your suppliers and vendors. It can also help you take advantage of early payment discounts and avoid late fees.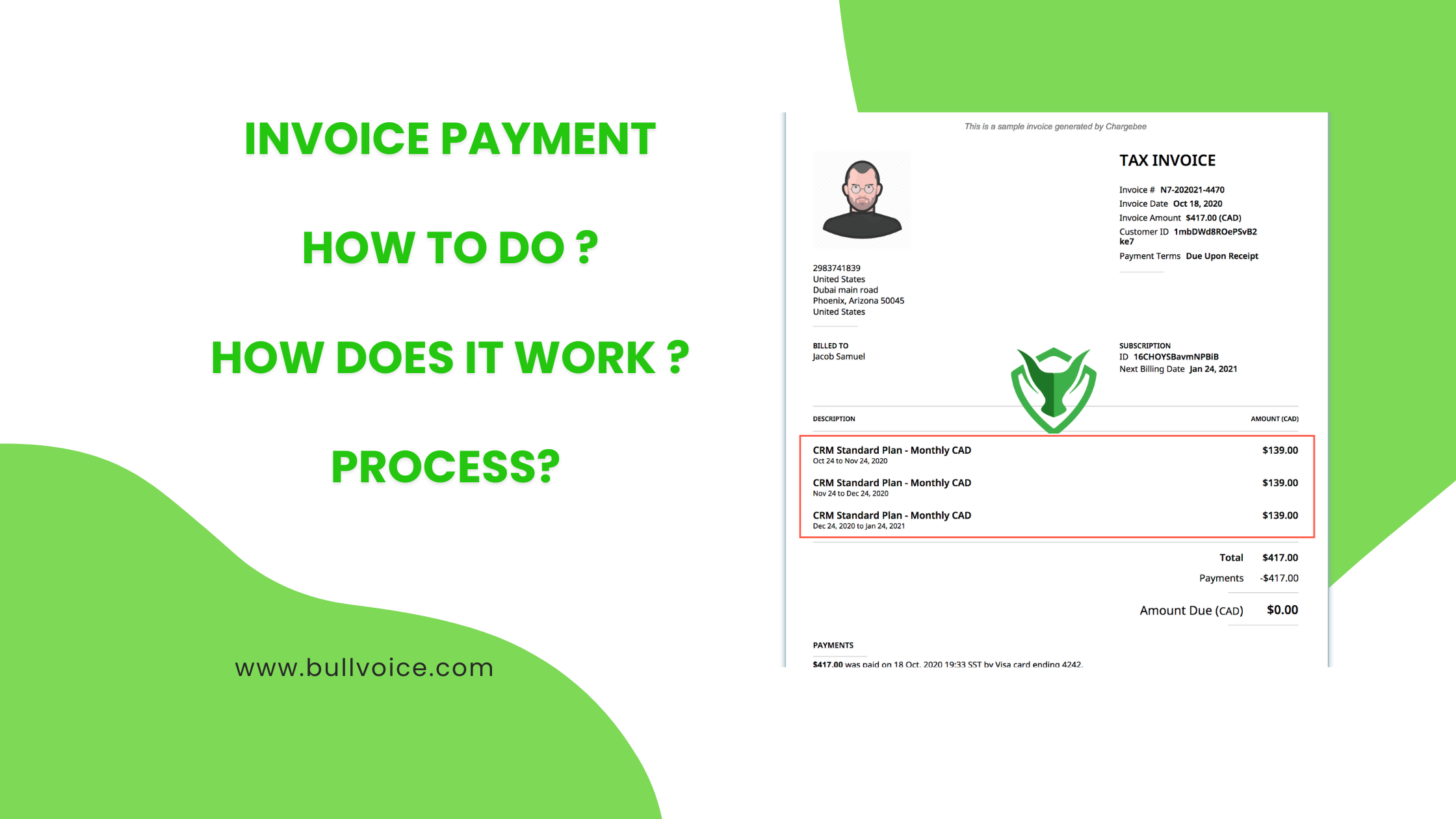 How do Invoice Payments?
Assuming you're asking how to pay an invoice, there are a few options.
If the invoice is from a vendor, you can usually pay by check or credit card. If it's from a customer, they may have specified how they would like to be paid.
To pay by check, simply write out a check for the amount specified on the invoice and mail it to the address listed. To pay by credit card, you will need the credit card number, expiration date, and security code from the card. You can then either call the number on the back of the card to give your information over the phone or enter it into the website listed on the invoice.
Assuming you're referring to how to pay an invoice with a credit card, here are the steps:
1. Log into your account on the company's website.
2. Find the invoice you want to pay.
3. Enter your credit card information and submit the payment.
That's it! Paying invoices with a credit card is quick and easy. Just be sure to keep track of your spending so you don't go over your credit limit.
If you're looking for other options, you can also pay by check or wire transfer. We'll explore those options in more detail below.
How does invoice payment work?
When it comes to paying your invoices, there are a few different options available to you. You can choose to pay by check, cash, or credit card. Each option has its own set of benefits and drawbacks, so it's important to choose the one that best suits your needs.
If you're looking for the simplest way to pay your invoices, then paying by check is probably the best option for you. All you need to do is write out a check for the total amount due and send it off to the address listed on the invoice. The downside of this method is that it can take a few days for the check to arrive and be processed, so if you're in a hurry to get your payment in, this might not be the best option.
Paying by cash is another straightforward option, but it comes with a few potential risks. First of all, if you lose your cash, there's no way to get it back (unlike a check). Second, if you're carrying around a large amount of cash, there's always the potential for theft. Finally, if you misplace your cash or forget where you put it, there's no way to track it down (again, unlike a check).
If speed is of the utmost importance when it comes to paying your invoices, then using a credit card is probably your best bet. Just be sure that you have enough available credit to cover the total amount due.
Signup Now if you want to create your first invoice free.
Typically, the business that owes money for goods or services rendered will send an invoice to the other business. This invoice will detail the amount owed, as well as any other relevant information like when payment is due. The business that receives the invoice will then either pay it in full by the due date or may work out a payment plan with the other business if they cannot pay the full amount up front. There are a few different ways businesses can actually make these payments.
Some may use traditional methods like mailing a check, while others may opt for electronic methods like wire transfer or ACH payment. The method of payment will usually be noted on the invoice itself, so the business receiving the invoice knows how to proceed. Making timely payments on invoices is important for maintaining good relationships with other businesses, as well as keeping up with your own cash flow needs. If you're consistently late on payments, you may start to incur late fees or interest charges, which can add up quickly. Paying invoices promptly will help you avoid these additional costs and keep your business running smoothly.
Invoice Payment Process
Assuming you've already received the invoice from your client, there are a few key steps to take in order to ensure a smooth and timely payment.
First, take a look at the due date on the invoice and make sure you can realistically meet that timeline. If not, reach out to your client and explain the situation – most are understanding and may be willing to work with you on extending the timeline.
Next, review the items listed on the invoice and compare them against your own records. If everything looks accurate, proceed with payment. If not, reach out to your client again to clarify any discrepancies.
Finally, once everything checks out, make your payment using the method specified on the invoice (usually online via credit card or ACH bank transfer). Be sure to keep a record of your payment for your own records. And that's it! By following these simple steps, you can ensure a hassle-free invoice payment experience for both you and your client.
For creating Invoices Try www.bullvoice.com