Nowadays, running a car vehicle auto repair workshop efficiently is not only about fixing cars and charging customers for your services. With the technological advances of the 21st century, auto repair shops need to move towards invoicing their customers electronically.
There are many car vehicle auto repair workshop invoicing software programs available on the market. However, not all of them are created equal. When choosing an invoicing program for your business, you need to take into account the specific needs of your workshop.
One of the most essential features of a good invoicing program is the ability to generate accurate and professional-looking invoices quickly and easily. The best programs will allow you to customize your invoices so that they include all the information that you need to give your customers. This includes your shop's logo, contact details, and a breakdown of charges.
Auto Repair Workshop Invoicing Software
Include a separate part for each of the following when creating your auto-repair invoice template:
An individual invoicing number.
The date the job was completed.
Information on the parts and labour was provided.
The invoice date.
The quantity is estimated before the order.
The final amount to be paid.
Terms of payment and payment instructions.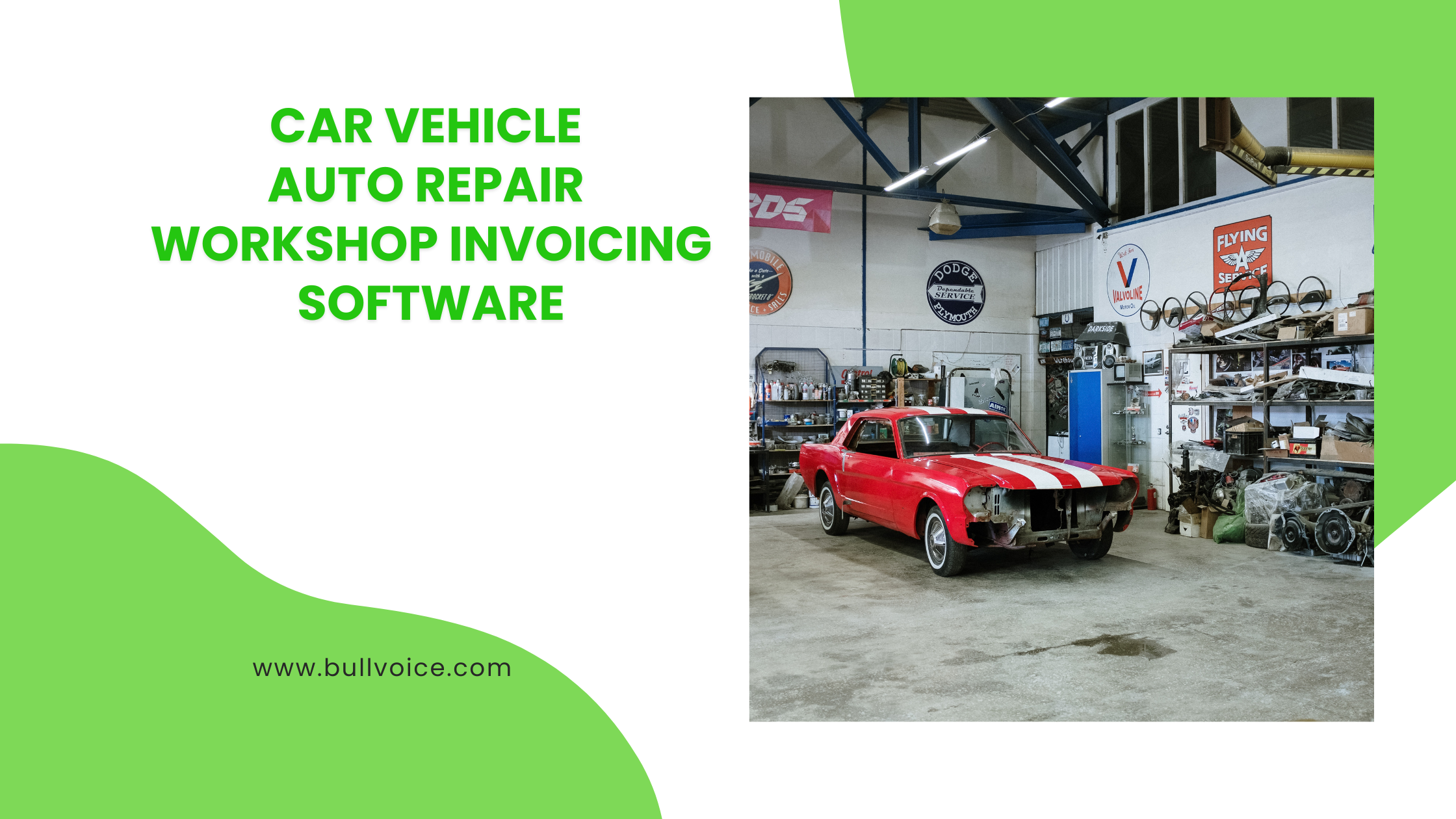 Another important consideration is the ease of use. The last thing you want is to spend hours figuring out how to use a new piece of software. Look for programs that have an intuitive interface and come with step-by-step tutorials or customer support in case you run into any problems.
Finally, ensure that the program you choose integrates with other software programs you use in your business, such as accounting or CRM software. This will make it much easier to keep track of your customers' records and make billing and invoicing a breeze.
Features of Repair Workshop and Garage Management Software
There are many features of Repair Workshop and Garage Management Software that make it an essential tool for managing your auto repair business.
Inventory Management:
You can track inventory levels and receive low-stock alerts to ensure you never run out of the parts you need. This feature also allows you to see which parts are selling well and which ones are not, so you can make informed ordering decisions.
Service History Tracking:
Keep track of all the services customers have requested and performed at your workshop. This information can be valuable for marketing purposes and helps you to upsell and cross-sell services.
Customer Database:
Store all your customer information in one place for easy access. This feature allows you to quickly find contact details, service history, and invoices for any customer.
Appointment Scheduling:
Schedule appointments with customers and employees, send appointment reminders via email or SMS and view a calendar overview of upcoming appointments. This feature helps you to stay organized and ensure that everyone is where they need to be at the right time.
Invoicing & Payments:
Create professional invoices that can be printed or emailed to customers. You can also track payments and outstanding invoices, so you always know who owes you money.
Pricing plans and Reviews of Workshop Repair Shops in Singapore
To get an accurate estimate of the costs of repairing your car, it is useful to know the average prices that workshop repair shops in Singapore charge. The table below shows the average pricing for various types of repairs from different auto repair shops in Singapore.
Type of Repair Average Price Charged
Minor servicing $49-$105
Interim servicing $95-$120
Major servicing $200-$400
Windscreen replacement $380-$480
Headlight polishing $50-$100
Engine oil change $60-$100
Brake pad replacement $140-$250
Clutch replacement $950-$1,200
From the table, you can see that there is a wide range of pricing for similar types of repairs. For example, a minor service can cost anything between $49 and $105 while a major service can cost between $200 and $400.
It is important to compare the prices charged by different workshop repair shops before deciding on where to take your car for repairs. You can do this easily by checking online reviews of workshop repair shops in Singapore. This will give you an idea of the quality of service and pricing to expect from each shop.
How to make workshops business more profitable using software
If you want to make your workshop more profitable, using software is a great way to do it. By automating invoicing and other administrative tasks, you can free up time to focus on other aspects of your business.
There are a few things to keep in mind when choosing software for your workshop. First, consider what features are most important to you and your business. Then, take a look at different software options and compare pricing. Once you've found the right fit for your business, make sure to set up training for your staff so everyone knows how to use the new system.
Automating invoicing is one of the best ways to save time and increase profits in your workshop. With the right software in place, you can simplify this process and get paid faster. Keep these tips in mind when choosing software for your workshop and you'll be on your way to increased profits in no time!
Integrations are one of the most important aspects to consider when choosing a workshop invoicing software for your business. The best software will offer seamless integrations with your existing systems, making it easy to get started and reducing the risk of errors.
Some of the most popular integrations for workshop business invoicing software include:
-Accounting software: This is essential for businesses that need to track their finances closely. Look for a workshop invoicing software that integrates seamlessly with popular accounting packages.
-Customer management software: If you already have a system in place for managing your customers, make sure your chosen workshop invoicing software can integrate with it. This way, you can avoid having to enter customer data twice and save time in the long run.
-Inventory management software: This integration is particularly useful if your workshop deals with high volumes of stock. Connecting your inventory management system to your workshop invoicing software will make it easy to keep track of what's in stock and quickly generate accurate invoices for customers.