The vehicle Towing Receipt Template is very useful when you are creating invoices related to vehicle towing. If you have ever been in an accident or had your car towed, you know that the bill can be quite costly. However, there is a way to save money on your towing invoice by using free software.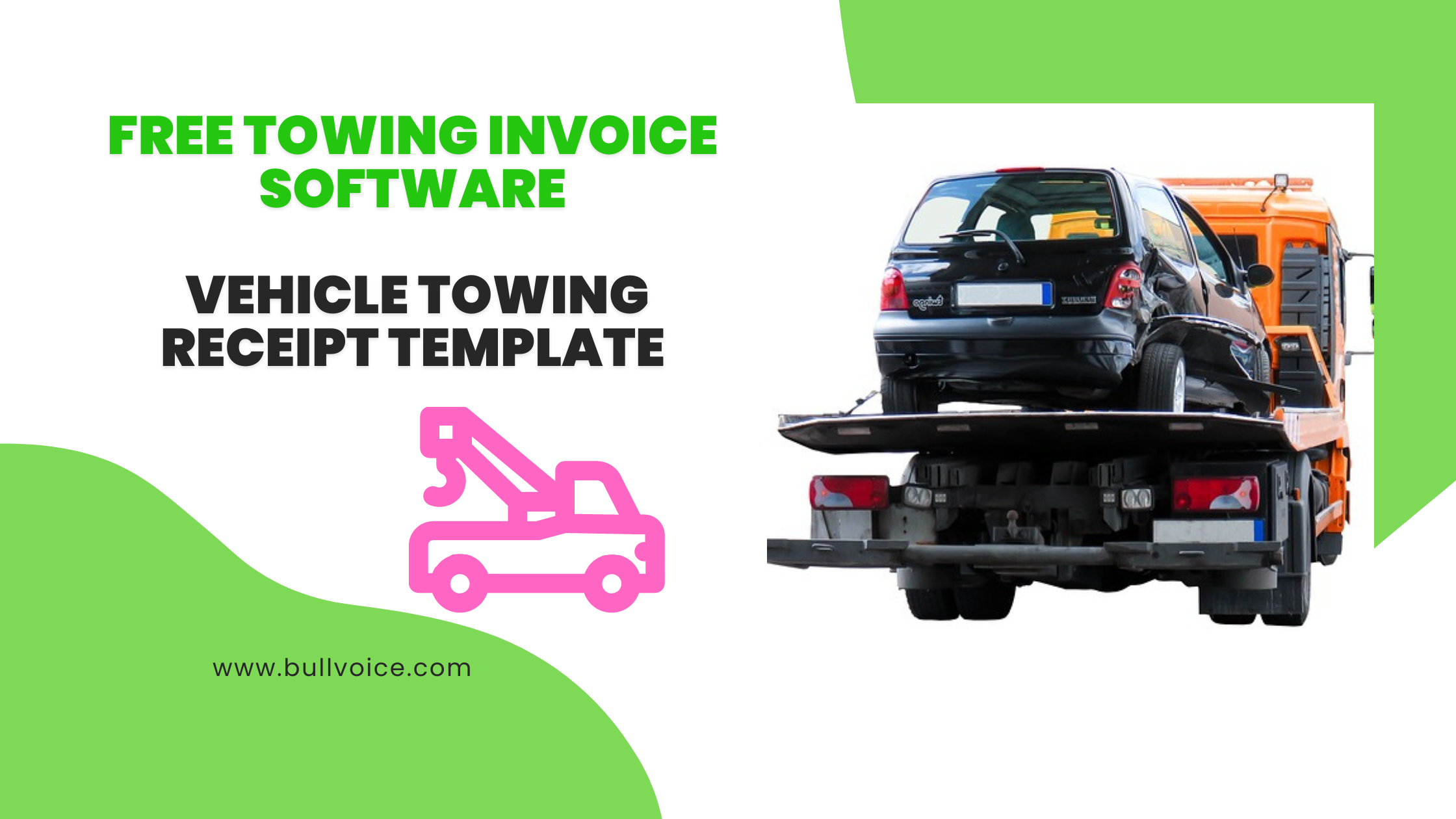 There are many different tow truck software programs available online, and they can help you save money on your towing invoice. By using one of these programs, you can receive a discount on your towing invoice template free of charge. Here are three of the best tow truck software programs that you can use to save money on your towing invoice:
Towing Invoice Template
If you are in the towing business, then you know how important it is to have a towing invoice template. This document provides a professional way to request payment for services rendered. The towing company name and logo can be prominently displayed on the top left corner of the invoice. The date, time, and location of the service should also be included. A clear and concise description of the services provided should be listed, along with the corresponding charges.
The customer's name and contact information should be listed on the right side of the invoice. And finally, any special instructions or notes can be included at the bottom of the page.
A properly formatted towing invoice template will help ensure that you get paid promptly and correctly for your services.
Towing bills provides an efficient way for businesses to tow for both public and private needs to bill for services. Common services include towing vehicles that require assistance, are improperly parked, obstruct traffic, or require normal transportation.
The form contains all the fields required by the company to ensure that the client is provided with all information related to the service. This is also important for financial statement purposes. This includes fields for party, vehicle towed, cost, vehicle pickup, and drop-off address, and signature area for tow truck operator and vehicle owner.
Vehicle Towing Receipt Template
If you run a towing business, then you know how important it is to have a professional-looking invoice. After all, this is what your customers will see when they receive their bill. That's why we've put together this vehicle towing receipt template – so you can save time and look great doing it!
This receipt template is designed for towing businesses and includes all of the necessary information that your customers will need to see. Plus, it's easy to customize with your branding, colors, and logo. Simply download the template, edit it in Microsoft Word or Excel, and print it out!
A tow truck receipt is a document that proves that the services provided by a tow truck were paid for by the owner of the tow truck, truck, or motorcycle.
In most cases, you will be charged a connection fee first, followed by a fixed fee per mile. However, many tow companies include the first few miles in their base rate.
Vehicle terrain and location, as well as the number of operators, may affect the total price. Receipts allow each tow truck operator to accurately outline the vehicle, the reason for the tow move, and the fees charged.
With our vehicle towing receipt template Bullvoice, you'll be able to provide your customers with a clear and concise invoice that itemizes all of the services you provided. And because it's easy to customize, you can make it look just like your existing brand identity. So why wait? Get started today and take your towing business to the next level!
Free Towing Invoice Software
If you are in the towing business, then you know how important it is to have a good invoice system in place. With so many different services and prices, it can be difficult to keep track of everything. That's where free towing invoice software comes in.
How to Write an Invoice Related to Towing:
Download: Adobe PDF software, Microsoft Word (.docx), or any OpenDocument
Save a Motor Vehicle Towing Receipt to Your Computer or the Cloud. Once done, determine the best file version and select the appropriately labeled button. You can choose PDF, Word, or ODT.
Identifying Transactions and Tow Company. The first task of this document is to identify yourself as its recipient (customer) in an unambiguous way. Therefore, use the two blank fields at the top left of this page to specify the 'Date' and 'Receipt Number' of your receipt.
In the upper right portion of this page, we are looking for a presentation of the tow company or tow truck owner who towed the vehicle. The first line of this area ("Company Name") must contain the full legal name of the tow truck company or contractor. The tow company's full business address must be included in this area. Two blank fields labeled "Address" and "City/Province/Postal Code" are displayed as areas for recording the address of this company.
Factors For Choosing Towing Invoice Software:
There are several different software programs out there that can help you keep track of your towing invoices. Some of these programs are even designed specifically for the towing industry. This means that they will have all of the features that you need to make sure that your invoices are accurate and professional.
When you are looking for a towing invoice software program, you want to make sure that it is easy to use. You don't want something that is going to be complicated and hard to figure out. The last thing that you want is to spend hours trying to figure out how to use the program.
Another important factor when choosing a program is whether or not it is compatible with your existing system. If you already have an accounting program in place, then you want to make sure that the new software will work with it. This way, you won't have to start from scratch and learn how to use a whole new system.
You want to make sure that the program offers a money-back guarantee. This way, if you are not happy with the program, you can return it and get your money back. Make sure that the company offers this guarantee since the last thing that you want is to have to pay for something that you are not satisfied with.
The best way to find the right free towing invoice software program is to do some research online. You can read reviews from other users and see what they think about the different programs out there. You can also look at different websites and see which ones offer a money-back guarantee.
If you are still unsure about which program to use, then you can always ask your accountant or bookkeeper for help in choosing the right one. They will be able to tell you which programs they recommend based on their own experience. This way, you won't have to waste time trying to figure out which one is best on your own.
When it comes time to choose a program, make sure that you take the time to compare all of the features and options that are available. There is no point in paying for a program if it doesn't offer everything that you need. You also want to be sure that the price is reasonable since you don't want to end up spending more money than necessary on this piece of software.
With all of these factors in mind, it should be easy for you to find a good free to use. You can try Bullvoice Invoice Software.
Click on Signup To try Bullvoice Towing Invoice Software… Signup Now